Chapter X
Mindoro
As soon as the Americans were established in Leyte, but long before it was completely mopped up, General MacArthur hit the Japs again not giving them any time to catch their breath. His next stroke was a bold one, clear to the other side of the Philippines, cutting them practically into two parts.
Mindoro, in size and population, is not one of the more important of the Philippine Islands group, yet its recapture by American troops in December 1944 was such a bold, daring, unexpected thrust that it had strategic consequences of significance for the entire central Pacific campaign.
The island is somewhat larger in area than Leyte, but with a population of only 119,000 inhabitants, scattered mainly along the coastal regions. It is located twelve miles south of Luzon and to the West faces the important China Sea. Accordingly, the recapture of it brought American land-based planes to within a 165-mile run of Manila and immediately laid open the China Sea for extensive American operations, both sea and air. It poised American Forces on the very bastions of the enemy's Luzon defenses. Our strike at Mindoro led the Japs to expect the Luzon landing would be on the southern coast. This attack was thus a feint to divert the Japs from the later to come Lingayen landing.
In view of these strategic implications this operation was one of the most important to which the 532d Engineer Boat and Shore Task Group had been assigned. And for the Regiment itself, it came to have special significance in that it was to be called upon to furnish supervision, function and service of a broader character than that of any previous operation. New types of missions were thrown at 532. In a word the operation was a fitting challenge for a unit with the achievements, history and experience of the 532d under its new commander, Col. Neilson who had relieved Col. Steiner when he was taken ill at Hollandia.
The Mindoro assault weighed anchor at 1630 hours on 12 December from Leyte. Considering the distance to its objective and the fact that every mile of the way lay through enemy waters and off shores fortified by enemy coastal installations, this movement encountered a minimum of enemy interference.
The next day a lone enemy suicide plane crash-dived the USS Nashville, causing a large number of casualties and inflicting damage which required four months to repair. The Regiment had no personnel aboard this ship. Several other attempts were made by enemy aircraft to attack the convoy, but effective anti-aircraft fire held them at a distance. Throughout the movement the morale of the 532d troops was excellent. They had been steeled in previous operations. Every man knew his job and was confident. The operation was a challenge, but not a source of doubt or uneasiness.
At dawn on 15 December the objective was sited - the municipality of San Jose, situated on the lower southwest coast of Mindoro. Our intelligence reports, based mainly on information from guerrillas, had stated it was garrisoned by an enemy force of an estimated strength of 630 troops and protected by many machine guns. In San Jose was located a sugar central with milling and railroad installations. There was also an airfield which the Japanese had used extensively. For the assaulting task force, the primary danger lay in the probability of heavy counter-attack owing to proximity to the enemy's Manila stronghold and to his China Sea-naval bases.
Destroyers and rocket LCIs delivered the usual bombardment of the beach. At 0730 the first troops hit the shore on schedule. Troops of the 532d landed on beaches designated as Blue and White respectively. No enemy resistance was encountered on either beach and Regimental Headquarters and Shore Battalion troops moved quickly to their pre-assigned areas.
The 532d undertook its shore party functions with the expertness and smoothness which comes of long combat experience. Every officer and man had been in at least one combat landing, some in as many as ten.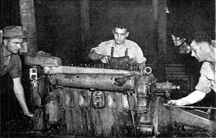 1570th Heavy Shop Co., 562 Engr. Boat Maint. Bn. Rebuilding a Marine engine, Left to right: Tec. 4 Ralph L. Baker, Tec. 5 Caleb L. Serrano, Tec. 3 John A. Beri.
Reconnaissance revealed that the beach conditions were the finest found in any operation to date and that the adjacent areas were more than adequate for dumpsites, allowing maximum dispersion for all types of supplies. Heavy equipment went into immediate action and protected dumps were constructed for ammunition and gasoline supplies. Seas were calm and landing craft got close enough to shore to drop their ramps on dry soil.
The outstanding achievement of the day was the rapid unloading of lighterage. All LSMs had been unloaded and had retracted from the beach by 0815. All scheduled LSTs plus fifteen LSTs of Ul echelon were completely unloaded and had retracted by 1830 hours. This represented on White Beach the movement of a total of 1363 vehicles and 4338 tons of bulk supplies, and on Blue Beach 451 vehicles and 1959 tons of bulk supplies. Involved in the unloading activities of the Shore Party were 6,000 troops including all the attached units.
This work was accomplished in spite of enemy interference. At 0855 six enemy aircraft appeared and were fought off by our air cover. Again at 1400 and 1930 enemy aircraft appeared to harass operations and were again fought off without interruption of the work at hand.
The 532d had been charged with the responsibility for the defense of Blue and White Beaches. The perimeter defense was organized as planned and some days later reorganized to further strengthen our positions. The perimeter defenses were maintained for a period of over one month and special precautions were taken in the event of an attempted paratroops landing, which was ever present danger in view of the proximity of Mindoro to Luzon. Throughout the period these defenses were manned each night by Regimental units but with no slackening of individual efforts on the jobs assigned in the course of the unit's engineer activities.
The record of work accomplished in the succeeding days was impressive. It has been noted that the functions of the 532d were broader in scope on this operation than at any time previously. The Commanding Officer of the Regiment, Colonel A. M. Neilson, was charged with the duties of Cargo Control Officer. In effect this meant complete direction of all-port activities, including charting the waters of Mangarin Bay, designating anchorage for arriving cargo vessels, scheduling the departure of empty cargo vessels, ascertaining the ultimate destination of shipping which stopped off at Mindoro, and the out-loading and transshipping of re-supplies for other operations. In addition the regiment operated and maintained the San Jose Railroad as well as the public utilities in San Jose. It also furnished expert welders to the Navy to repair damaged ships. These latter assignments will receive special attention below.
Main attention was devoted however, to port and shore activities as that was 532's real job. In the succeeding days, permanent dump areas were constructed in the town. All supplies were cleared from the temporary beach dumps and a network of some ten miles of roadway was either constructed or improved during the course of a fifteen-day period. All cargo was expeditiously handled. Shipping in the stream was promptly unloaded and the coordination of all port activities by the 532d made for exceptional efficiency.
On 18 December boat crews of the Regiment accomplished the first of their rescues. During an enemy plane attack off Caminawit Point a squadron of Motor Torpedo boats was fired upon and bombed, one was hit amidships. A picket boat of the 532d made passage amid the maneuvering craft to the stricken boat and rescued from the water six survivors. This rescue was made near flaming pools of gasoline and proximate to ammunition and fuel explosions. The stem of the picket boat was badly scorched. For this heroic achievement the Bronze Star Medal was awarded to Captain Rutherford Harris of Cleveland Heights, Ohio; Captain F. X. Popper; 1st Sergeant M. K. Waters of Fall Rivers, Massachusetts; Sergeants B. R. Barnett of Riverside, Rhode Island; E. J. Krist of Scranton, Pennsylvania; 0. K. Olsen of Bedford, Massachusetts; R. R. Weaver of Lodi, California and Corporal Edward Bober of Cleveland, Ohio, and the Silver Star to Colonel A. M. Neilson, the Regimental Commander, who personally directed the rescue.
Secondary echelons of the Regiment arrived from Leyte on 22 and 30 December. These echelons while enroute in convoy were harassed repeatedly by enemy air attacks. In a desperate effort to prevent the building of the Mindoro base, the Japanese air forces began to employ regularly the tactic of the crash dive against our shipping. Our first casualties of the operation were incurred in these convoys. Our LCMs were towed from Leyte by LSTs. When several of the latter were sunk by the crash dive tactics, our LCMs in tow were immediately endangered. Quick thinking and determined action by 532d crewmembers and passengers saved craft and lives. In one instance the Liberty towing our LCM went down so fast the crew shot the towlines away with their carbines, thus preventing their craft from being submerged with the sinking ship. Other 532d men not so endangered went to the rescue of LST survivors. Undeterred by exploding ammunition, by shrapnel or by oil fires on surface waters, they directed their LCMs into the danger area, took positions along the narrow, exposed cat-walks of their craft, and saved a number of both Army and Navy personnel. Nor were 532d men aboard the larger ships mere observers. Many of these men assisted the regular ship's gun crews and worked determinedly in carrying from storage the ship's resupply ammunition. During these attacks the Regiment lost six enlisted men killed and one officer and five enlisted men wounded. For heroic acts Bronze Star Medals were awarded Captain H. E. McPherson; Sergeants T. W. Perkins, of El Paso, Texas; and E. R. Hammond of Avon, Illinois, Corporals L. C. Addis of Galesburg, Illinois and 0. G. Brewer of Miami, Oklahoma; and Private First Class S. F. Garrison of Kansas City, Missouri.
On 30 December, when a PT tender was hit amidships by an enemy plane at Mangarin Bay, 532d men rescued over a hundred naval survivors. Sergeant John M. Lawrence of Glenburnie, Maryland; Corporals Israel Silverstein of Brooklyn, New York and James J. Ullery of South Bend, Indiana; and Private First Class Joseph Trojan of Milwaukee, Wisconsin were the heroes of these rescues. All of them were awarded the Bronze Star Medal.
From U-Day until the opening of the Luzon campaign in January there was a notably sharp increase in the tempo of air activity over San Jose. These attacks were made both during daylight hours and at night. Shipping in the stream was the principal daylight target and newly constructed airstrips the principal night target. The hours for rest at night were severely limited by these attacks and daytime unloading activities in the stream were subject to interruptions. In several instances the masters and crews of Liberty Ships were quartered and messed on shore at night by 532d units. It was too dangerous to leave any men at all aboard the anchored ships at night. Our AA fire, while not directly credited with any enemy planes, contributed none-the-less to the general effectiveness of the San Jose AA defenses.
At approximately 1830 hours on 26 December the Regiment was alerted that a Japanese naval task force would be off Blue Beach at approximately 2000 hours. Taking advantage of a weather front the Japs had sneaked its naval force close to Mindoro without detection. All our naval forces except PT boats were back at Leyte, many hours away. All available aircraft and PT boats moved out to engage the Task Force and at 2015 hours the white AA fire characteristic of Japanese guns could be seen to the North. Great fountains of white fire reached upward and illuminated the sky. The night sounds of the countryside gave way to the steady, deadening drone of our planes as they winged at high speed with new bomb loads from the airstrips in action. By 2330 the Jap naval task force had moved to a position off Blue Beach and began the shelling of the airstrips.
During this time the 532d was at its beach defense positions, ready to stop any attempted landings. Tensely every eye strained to study the pattern of the shelling, awaiting indication as to whether it would be turned on the shoreline in preparation for an assault landing. Most of it though seemed to be aimed at the airfields.
Unceasing attack by our air forces, however, forced the enemy to withdraw northward and by 0015 all shelling had ceased. It was later reported that the Japanese suffered the loss of three DD's and that one heavy cruiser had been damaged. The attack and shelling by the Japanese Naval Task Force was not without notable significance to the men of the 532d, for in its combat history the Regiment had now encountered every form of enemy fire, land, sea and air. 26 December 1944 will always be a vivid recollection for 532d personnel.
Simultaneously with these activities in December the Regiment ran several small but important boat missions from San Jose to points North. These missions were mainly of a resupply character and important for observation and patrol purposes.
On U-Day a reconnaissance party of the 532d consisting of Sergeant John McConnell, Corporal George F. Burke of Leadville, Colorado; Corporal Harry Rustay of Phillipsburg, New Jersey; and Private Calvin Transue of South Coffeyville, Oklahoma, moved with an advance detachment of the 503d Paratroopers through kunai grass nine feet high along the tracks of San Jose. Aerial reconnaissance had revealed the tracks and a few cars, but no locomotives. Three hours after H hour this party reached the Roundhouse. They were all old railroad men, who in the heat and sweat of New Guinea had dreamed of the glory of riding the tracks once more. "Better a hundred stops a run for hot boxes than New Guinea and its trials," had been their refrain.
The former Filipino employees of the line met them at the yards and expressed eagerness to cooperate. From these Filipinos they learned that effective sabotage had prevented the Japanese from using the line. Ingeniously they had stripped the locomotives of vital parts and buried them in hidden places around the mill. They had cut down the coils in the telephones and rendered the communications system inoperative. Thus in three years of Japanese occupation scarcely a wheel had moved over the line.
The party learned that there were 43 miles of track; that of equipment there were two 50-ton engines, three 10-ton engines and one tractor engine. In the yard stood four hundred cane cars and six standard cars. The average age of this rolling stock was twenty years. The average daily hauls in the sugar season had been only one hundred tons.
The railway crews of our Shore Party immediately went to work. Ten hours later No. 7's bell clanged and the tractor engine was dispatched to a Signal Corps unit for stringing lines. This was the first time in MacArthur's drive from Port Moresby on the South side of New Guinea that railroad facilities had even been encountered. It took the Amphib railroaders only ten hours to start making use of them.
The next call some hours later came from Caminawit. Roads were in very poor condition and there was urgent need for evacuation of wounded to the San Jose Hospital. Number 9 would have to be dispatched. This was an old German diesel in which the Japanese had attempted to use too heavy a fuel and had clogged the fuel system. The proper oil, however, was still lacking. Pablo Carillo, who had been master mechanic on the line, was consulted. He immediately busied himself with cleaning the fuel system. Other heads grappled with the fuel problem, but the outlook appeared rather hopeless. Suddenly there was an ear-splitting groaning and throbbing and No. 9 moved out of the Roundhouse. Carillo had solved the impossible--No. 9 was operating on coconut oil. Thus the "Coconut Oil Special" started on its first errand of mercy and successfully evacuated seventeen wounded of the Navy Party.
No. 4, a wood burner which had been converted for oil, was the next to go into operation. This old timer made the most memorable runs of the whole operation. Every night it carried wounded up to the San Jose Hospital. Its course was emblazoned across the blacked-out countryside. Being a wood burner it sent up a fifty-foot geyser of sparks and rode through the night a pillar of fire, but nonetheless saving for the surgeon precious minutes in his battle for lives. When air alerts and raids came, there was no stopping and blacking out. It had to continue full speed ahead. No one, crewmember, nurse or evacuee - will ever forget those mercy trips. Thereafter activity in the yards doubled. To avoid strafing by enemy planes, runs were usually made at night as was much of the repair work also. Track repair work was particularly difficult under blackout conditions. In a short period, four locomotives, the tractor engine and three hundred and sixty-five cars were in service.
It was a group of former railroad men among 532d personnel who contributed largely to this magnificent achievement. Their combined railroad experience totaled seventy-two years. In that group were Sergeant John McConnell, Corporal George F. Burke, Sergeant John Anderson of Shoshone, Idaho, Corporal Richard Hanson of Bloomington Indiana and Robert Boat of Denver, Colorado; Privates First Class Carl Dahl, of Sioux City, Iowa, Manuel Lujan of Merced, California, James Diem of Ford Spring, West Virginia and George Baker of Marcola, Oregon; and Privates Albert Peterson of Shelly, Minnesota, Stephen Napp of Bronx, New York, Virgil Chambers of Chipley, Florida, and Private Calvin Transue. To their efforts were added those of some forty other men who had not previously worked on any railroad.
Company Dunder the command of Captain Gerald E. Peterson of Blooming Prairie, Minnesota, was in charge of railroad operations as well as the operation of the machine shop, electric plant, ice plant and water supply of San Jose proper. These utilities serviced all headquarters and dumps situated within the town proper. They were put into operation speedily as had been the railroad. Here, too, the problems were akin. The replacement of worn parts taxed ingenuity. Outstanding in their work in the utilities field were Staff Sergeant Arthur Houghlan, Sergeant John Heddon, Corporal Harry Gates and Privates Panfilio Duenez and Frank Goenkel.
In the month of January, major attention and effort were devoted to port and unloading activities. Much air force equipment, supplies, and ammunition had to be handled. White Beach, which had been closed in late December, was again reopened. Many improvements were made on both Blue and White Beaches to facilitate the handling of heavier tonnage. Central control towers, from which Boat, Beach and Signal sections operated, were constructed on both beaches and the coordination of these activities was appreciably improved thereby.
There was a notable increase in traffic borne by the 532d Communications Section. Their blinker tower directed shipping to assigned anchorage and relayed unloading schedules. Radio telephone handled inter-beach messages. Semaphore posts guided small craft unequipped with radio or blinker. Their radio stations handled messages from shore to high echelons. The telephone exchange was integrated with the San Jose network. The Army and the Navy made the fullest use of this network of communication.
The Boat Battalion operated during the month four important tactical missions, which were chiefly resupply of outlying radar and infantry units. The first of these was to Marinduque Island, which is only twenty miles from the shores of Luzon. All the missions were carried through unfriendly waters, some through waters with treacherous coral reefs, but all craft returned safely. The total boat mileage covered by these missions was 3,752 miles. 532d boats were also employed in assisting five PT boats to refloat after they had run aground on reefs near Mangarin Bay.
On 9 January with the invasion of Lingayan Gulf, Luzon, enemy pressure on Mindoro was relieved. Subsequent to that date there were but few air attacks. For the first time since U-Day personnel were able to enjoy an uninterrupted night's rest. Up to this date the men had assumed posts nightly on the perimeter defenses. Camp installations were solely of a primary character. Practically no tents were erected. The men had been sleeping on cots in the open at their perimeter posts right next to their foxholes. There was little shade from the hot sun and little protection from rains if they came. Fortunately though, while operations at Leyte were in a sea of mud, Mindoro was in the middle of the dry season.
Immediately after the lifting of enemy pressure much effort was devoted to preparing campsites and erecting installations. For the first time the men had the opportunity to appreciate the excellence of their location. Pleasant climate and dry weather was in marked contrast to the rain and primal ooze of Leyte. Open, level fields allowed the organization of an athletic program. Adequate ball fields were now available. In truth it can be said that the finest living conditions since arrival overseas were now enjoyed. After its long hard days from Nassau Bay to Leyte and on to Mindoro, it is certain that the men of the 532d deserved a rest and a break on the weather.
Throughout the entire period of the Mindoro operations the Regiment had never had present for operational purposes the full complement of its boat strength. One company had been attached for operational activity to a task force at Ormoc, Leyte and operated along the western shores of Leyte and Samar and to the outlving Camotes Islands and even as far as Masbate.
In March the Boat Battalion participated in two assault missions off Mindoro. The first of these was against Lubang Island. In mid-February a reconnaissance of the island had been made by a small 532d party under the command of Captain (later Major) Jack C. Fuson of St. Joseph, Missouri. At that time offshore soundings were made within sight of the enemy garrison but no fire was encountered. On March 2 when the actual landing was made, it was different. Such heavy offshore fire was received that the 532d LCMs under 1st Lt. Clyde Oakley of Sayville, Long Island, New York bid to wait two hours for the enemy to receive a second pasting before the LCMs went in for the landing.
On 12 Match, three assault landings were made by 532d boat crews under the command of ist Lt. David B. Bernard of New Haven, Connecticut, on Iliban, Simara Island, and Romblon Island. While at anchorage at Iliban our boats were fired upon by enemy machine gunners. No casualties were inflicted.
Daily throughout the month, resupply missions were run to various small islands and outposts on Mindoro and off the coast. And while no unusual incidents were connected with these missions, skilled seamanship and constant vigilance were always in order.
In April Boat Battalion detachments were operating from Mindoro, Romblon Island, Palawan, Leyte, Samar, and Masbate. Company "B" was ordered to Batangas in Southern Luzon for lighterage operations at that newly opened base.
Also in April a Shore Battalion party under direction of a Naval Salvage Officer completed the salvage operations in which they had been engaged since January. The Liberty Ships John C. Clayton and Juan De Fuca, both of which had been badly damaged by Jap suicide crash dives in the early days of the Mindoro operation, were made ready for sea. Patches had been welded over holes torn open by torpedoes, keel stiffeners had been installed and bulkheads shored and braced. Our volunteer crew in a new field of endeavor worked for days in bilge water but felt repaid for their effort when the Liberties went back into service. Another evidence of our versatility!
In March 1945 Lt. Colonel Robert J. Kasper, Executive Officer of the 2d Engineer Special Brigade, succeeded Colonel Neilson as Regimental commander. Colonel Neilson went to an engineer job in Luzon. After the April operations the 532d settled down to duties largely routine and made preparation for a period of intensive training and for the Palawan operation. The announcement of VE day in May warmed every heart and brought new hope for an early victory over Japan. Mindoro was to remain as the site of Regimental Headquarters of 532 for almost a year. The men of 532 thus spent more time in Mindoro that at any other station since the formation of the Regiment back in June, 1942.